Gothic Fashion – The Definitive Guide To Fashion Trend
You must have heard of the word, 'Gothic.' Well, it is a medieval term. It is supposedly dark. Coming to clothing, it is a style that consists of mysterious elements. It is equivalent to the Goth subcultures. Take the example of fashion magazines depicting the look. It mainly consists of dark hair, dark lipstick, and dark clothes. You must have got an idea by now? Gothic fashion is ruling the ramp and editorials today. It is more of a punk fashion with several sub-categories.
Gothic Fashion Features
Today, the Gothic style is on the way to success. The masses have accepted it as a fashion statement. Moreover, you can see it everywhere. We already told you about the ramp and editorials. However, there is more. You can also spot it on TV, music videos, and movies. It is an amalgamation of cultures from Medieval Europe, with war-like temperament. There are certain myths associated with Gothic fashion. Most people think that it is all about the color black. However, that is a wrong notion. It can be white, as well.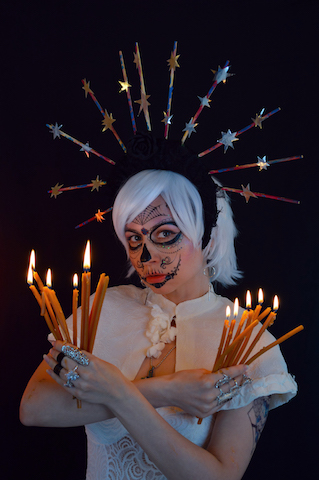 Let us find out more about the prominent features. Now, separating a Goth from a crowd is easy.
Black is the main color, but white and red also occupy a primary position in Gothic styles. It is more about contrast. The play of light and shadow makes it different from the rest. Purple, burgundy, green, blue are colors that you cannot miss.
You can separate a Goth by the silhouettes. It has got to be straight lines and flowy patterns. Nothing girlie seems to work.
Goths wear modern dresses with complex cuts. And, they can include mini skirts and maxi skirts too in their wardrobe. It is a minimalistic look adorned with subtle frills.
The main fabrics that are being used by Goths are velvet, satin, silk, leather, lace, and brocade. You can spot mesh in the stockings and sleeves.
Footwear is another important part of this style. It includes unisex boots, platforms, high heels, army boots, and more. For a formal occasion, you will see them wearing stilettos.
Goths are popular for their choice of accessories. You will catch them wearing a lot of metal chains, leather chokers, dark bands, and latex. Moreover, you will find an umbrella on them. They use it often to protect their skin. Backpacks and gloves are also a part of the attire.
Gothic jewelry is usually made from silver, white gold, or platinum. Yellow is a strict no-no for them. The pieces they wear most often are rings, bracelets, earrings, and pendants. Moreover, you will see cats, roses, dragons are predominant motifs in their collection.
Goths wear their hair straight. However, Roman Goths with curls are not that hard to find either. Some goths also dye their hair red.
Gothic makeup gives it all out. A white face, dark lips, dark eyes, dark cheeks call out 'Gothic' from the rooftops.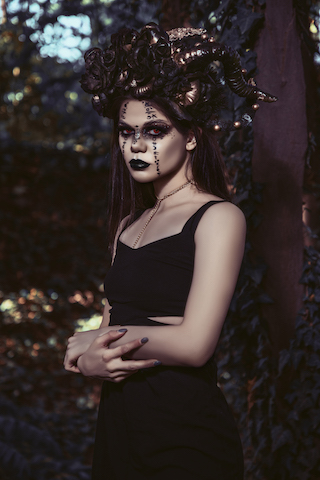 Gothic Styles Decoded
You will find various sub-categories under this label. There are Traditional Goths, Antique Goths, Victorian Goths, Gypsy Goths, and Cyber Goths, and more. You cannot stop counting. There is a fashion sense in all of them. So, watch out for that black-haired guy or girl in the neighborhood. Do you see dark hair, bright red lips, and dark clothes? If you do, then it's probably gothic style. Goths have evolved today. You might see them sporting glitters as well. Fairy Goths are not uncommon.
Gothic Fashion Icons
Find inspiration for this fashion statement from the best icons from the cinema, music, and entertainment industry. Maila Nurmi is one of them. She is an American-Finnish actress and TV host from the 1950s. She started the vampy and dark look. Moreover, she is also the first Dark Horror host. Checkout Siouxsie Sioux, one of the strongest vocalists today. She leads a Goth band. From hair to toe, she exudes Goth's charm. Free Dominguez of Kidneytheives has also inspired the Goth scene. She has an attitude like a goddess. Her most prominent features are her eyes. If you love alternative fashion, copy her.
Men can get gothic, too. Pearl Thompson is one of the first people, who come to mind. His sexuality is debatable, but his style is not. It is one of the best things to happen right now. He stands out for his eyeliner. Andrew Eldritch is another star worth mention. He is rocking the look in Hollywood. Peter Murphy is one strong man, who has 'Gothic,' in his veins. He has a strong style statement of his own.
Gothic trends are here to stay today. Moreover, the style is on the rise in metros. And, rock bands are an ambassador of this style. Today, you will find a new trend of Gothic combos. The trend is likely to stay here for a long time.