50 Stunning Lemonade Braids Hairstyles to Try Right in 2023
Lemonade braids are a trendy protective hairstyle that has been popularized by celebrities like Beyonce and Nicki Minaj. The style gets its name from Beyonce's visual album "Lemonade," in which she wore a variation of the braids. Lemonade braids can be done in various lengths, sizes, and colors, making them a versatile option for anyone who wants to switch up their look. From classic to colorful, here are some popular lemonade braid styles to consider.
Related: 10 Celebrities Who Rocked Cornrows to the Side Hairstyles
Related: 16 Stunning Ways to Style Braids on the Side
50 Stunning Lemonade Braids Hairstyles for Women
1. Classic Lemonade Braids
If you're looking for a timeless and elegant hairstyle, consider braids on the side. One popular variation is the "lemonade braids" style, which involves micro braids and traditional cornrows with long locks swept to one side. This classic look is versatile and can be worn season after season without looking dated.
2. Small Lemonade Braids
For a thinner, more delicate appearance, small lemonade braids on the side can create an adorable summertime look.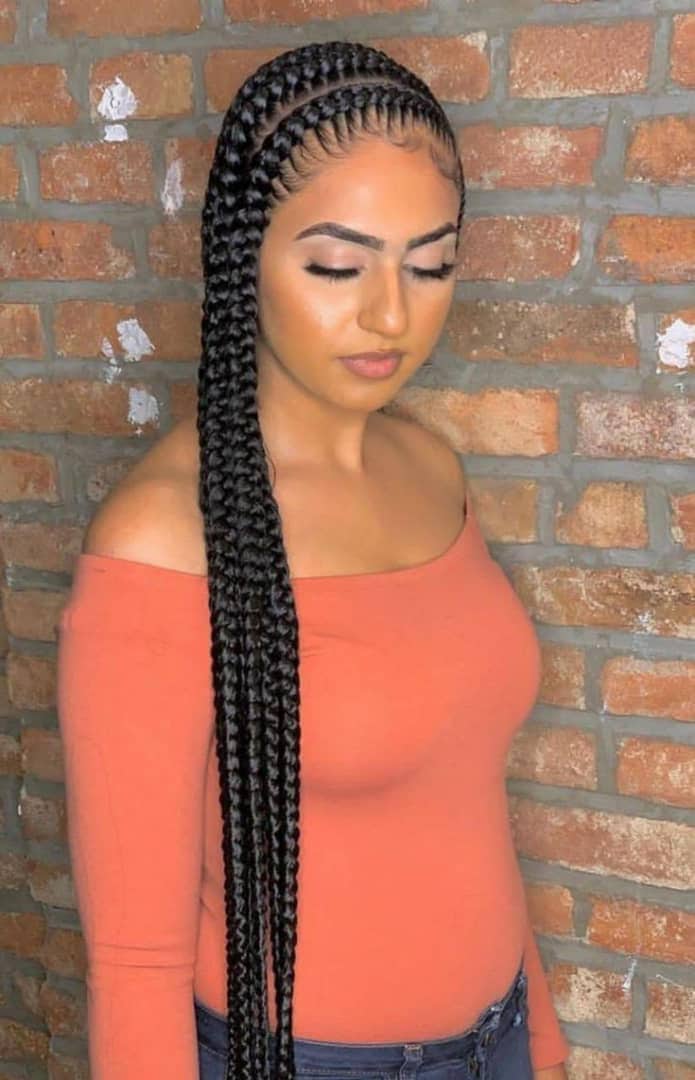 3. Jumbo Lemonade Braids
Braids on the side have become a popular style for those looking for an easy-to-manage and stylish hairdo. Jumbo lemonade braids are particularly good for women with thick, curly hair, providing a protective style that is both eye-catching and functional. With this statement-making hairstyle, you can keep your mane looking gorgeous and under control at the same time!
4. Large Lemonade Braids
For a bold and statement-making hairstyle, consider trying out large lemonade braids with extra-long locks. To complete the look, apply a styling product to the baby hairs around the face and shape them into cascading curls for a soft and feminine touch. This hairstyle is perfect for those looking to add some drama to their look!
5. Lemonade Braids With Beads
Looking to add some flair to your side braids? Try incorporating some beads at the ends for a bohemian touch. Beads come in a variety of styles, from girly to punk, so you can find the perfect match for your personal taste. It's important to choose bead sizes that easily slide over your braids without damaging them. With this simple addition, your braids are sure to stand out and complete your look!
6. Long Lemonade Braids
For those looking for a versatile and stylish hairstyle, braids on the side can be a great option. Lemonade braids, in particular, have gained popularity for their unique look and length. However, if you don't have naturally long hair, there's no need to worry! You can easily incorporate any weave or hair extensions into your lemonade braids to achieve the length and fullness you desire.
7. Ponytail Lemonade Braids
For a chic and effortless style, try pulling your hair up into a high ponytail and leaving a small section out. To add some dimension, braid the section to create side braids. Then, wrap this braided section around the base of your ponytail and secure it with a bobby pin. Finally, leave a few locks out around your face for a completed look that's both relaxed and stylish!
8. Updo Lemonade Braids
Braided hair is versatile and offers plenty of styling options beyond just letting it hang loose. Consider pulling your braids to the side for a chic look that's easy to achieve. To take it up a notch, gather your braids into a stylish updo like a sleek ballerina bun or add some drama with eye-catching statement earrings.
9. Lemonade Braids With Color
Looking to add a colorful twist to your hair this summer? Why not try out these beautiful braids on the side, accented with all the colors of the rainbow. The unicorn-inspired look is sure to turn heads and make you feel like a magical creature all season long.
10. Burgundy Lemonade Braids
Looking to add some edge to your boho look? Try side braids! Go for a deep burgundy color and consider adding extensions for an eye-catching hairstyle that is sure to turn heads.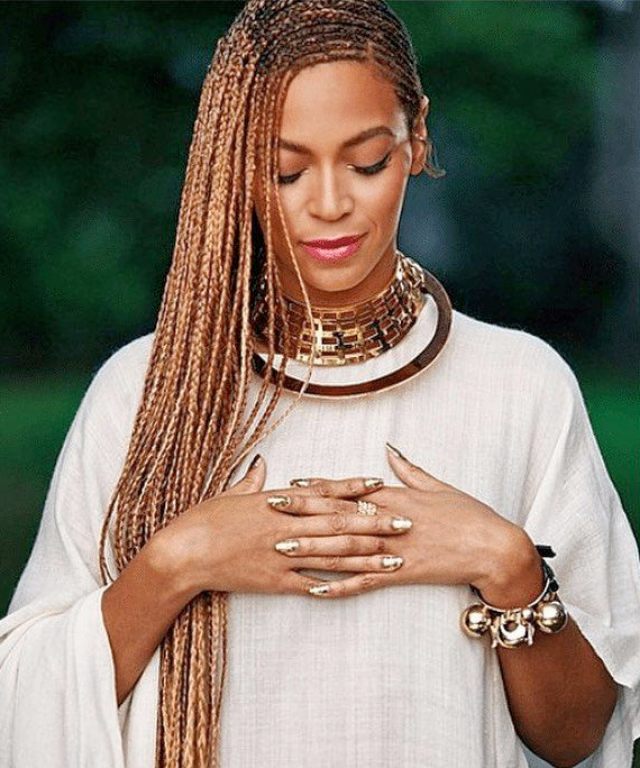 11. Beyonce Lemonade Braids
Beyoncé is known for her iconic style, which has included some of the most memorable braids ever seen. One such look is her long mini lemonade braids with touches of gold that she has sported in the past. These braids are often styled to one side, creating a bold and eye-catching look.
12. Pulled Back Lemonade Braids
For those who don't want to commit to jumbo braids, consider opting for braids on the side instead. These braids are large enough to make a statement but small enough to maintain a subtle look. This is the perfect in-between option that offers a pretty and eye-catching style.
13. Big Lemonade Braids
For those who don't want to commit to jumbo braids, consider opting for braids on the side instead. These braids are large enough to make a statement but small enough to maintain a subtle look. This is the perfect in-between option that offers a pretty and eye-catching style.
14. Center Part Lemonade Braids
Braids on the side, also known as lemonade braids, are often worn swept to one side for a dramatic effect. However, this trendy hairstyle can also be achieved with a center part for a different but equally stunning style. A center part is especially flattering for those with round face shapes, as it can create symmetry and elongate facial features.
15. Medium Lemonade Braids
For women with thin hair who desire a fuller, thicker appearance, braids on the side may be a great option. This style can be enhanced by using hair extensions to give the illusion of more volume and thickness.
16. Topknot Lemonade Braids
Looking for a stylish way to keep your hair out of your face on hot days? Consider trying out the side braid! Start by parting your hair and taking a section of hair from one side, divide it into three equal sections, and begin braiding. Once you reach the end, secure the braid with an elastic band or clip it in place. Repeat on the other side for a symmetrical look. You can leave the rest of your hair down or tie it up in a bun for added style!
17. Lemonade Braids To The Side
Side braids, also known as lemonade braids or goddess braids, are a popular hairstyle that involves cornrowing hair to one side of the head. The braids can be styled in various patterns and sizes, depending on personal preference. Some prefer a more dramatic look with the hair entirely braided to the opposite side of the head, while others opt for a softer look with just a few braids on the side. For added flair, some incorporate geometric patterns into their parting.
18. Pink Lemonade Braids
Sorry, the given paragraph is not related to the provided keyword "braids on the side." Can you please provide another keyword or a related paragraph?
19. Zig Zag Lemonade Braids
Looking for a unique twist on traditional cornrow styles? Consider adding some personality to your look with a zig-zag part. This fun and mesmerizing style is perfect for those who like to stand out from the crowd. With braids on the side and a bold parting, you'll be sure to turn heads wherever you go!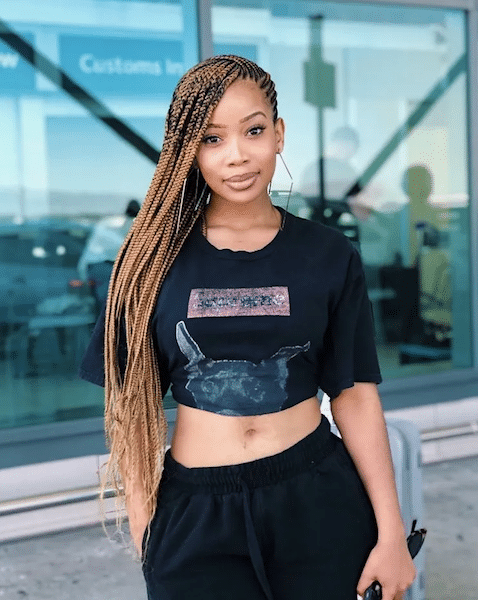 20. Blonde Lemonade Braids
Braids on the side can be a great way to add a bit of interest to your hairstyle, and lemonade braids are one popular option. Another trend that has been gaining popularity is adding blonde highlights or going fully blonde while still incorporating protective braiding styles. The braids not only look chic but also help protect the hair from damage caused by styling and environmental factors.
21. Half up Half Down Lemonade Braids
If you're tired of the same old braided hairstyle, try a half-up, half-down look to switch things up. One way to achieve this style is by pulling the top portion of your hair into a bun and leaving the bottom braids flowing freely. This gives you an effortless yet cute new look that's perfect for any occasion.
22. Lemonade Braids With Wraps
If you want to add an extra touch of style to your lemonade braids, try incorporating some braids on the side. You can play around with different patterns and thicknesses that suit your taste. This look is particularly perfect if you're planning to attend any festivals or events where you want to stand out with a unique and trendy hairstyle.
23. Swirl Lemonade Braids
If you're looking for a unique and stylish way to shake up your typical hair part, consider trying out side braids in a mesmerizing swirl pattern! This alternative to traditional cornrows is perfect for both kids and adults, and can add some extra pizzazz to your festival season look. So why not give it a try and see how this hypnotizing style can elevate your overall vibe?
24. Ombre Lemonade Braids
Are you looking to switch up your hairstyle for the spring season? Consider adding some color to your braids on the side! With a variety of fresh and vibrant shades to choose from, including pinks, silvers, blondes, and purples, there's an option for every skin tone. Just be sure to pick a color that will complement your unique complexion for a truly stunning look.
25. Two-Tone Lemonade Braids
Wanna spice up your lemonade braids? Try adding some personality by doing side braids! For an even more unique look, add a few blonde highlights throughout to create stunning contrast.
26. Cornrow Lemonade Braids
Side braids, also known as lemonade braids, have been around for some time but gained a new wave of popularity after Beyonce's album "Lemonade." They're not just trendy, they're also a practical hairstyle for protecting natural hair. These braids are typically made with cornrows and designed to be long-lasting while also offering versatility in styling. The most popular look is brushing the thin braids sideways from the center of the head.
27. Side Lemonade Braids
If you're looking for a chic and low-maintenance hairstyle, consider lemonade braids. These stylish braids get their name from Beyonce's 2016 album "Lemonade," during which she frequently wore this hairstyle. Lemonade braids are feminine, flattering, and often worn to the side for added style.
28. Ghana Lemonade Braids
A trendy and effortless hairstyle that's gaining popularity is the Lemonade braid. Created with the underhand braiding technique, this type of cornrow hairstyle is worn long on the side, making for a chic statement look. Protective and thicker than traditional cornrows, Ghana braids are typically braided straight back. Combining aspects of both Lemonade and Ghana braids can result in fresh and unique hairdo options!
29. Color Lemonade Braids
Side braids, also known as Lemonade braids, have become a popular and trendy hairstyle in recent years. This particular style is favored not only for its effortless yet glamorous look but also for its versatility. Side braids are an easy-to-manage protective style that can be customized to your liking. You can add some pizzazz by coloring the braids with vibrant hues or blonde highlights to make them more striking!
30. Cute Lemonade Braids
Braids on the side are a versatile hairstyle that can add a touch of elegance, playfulness, or edginess to any look. Lemonade braids in particular offer a feminine yet fun style that's perfect for anyone looking to switch things up. With the option to add accessories like twine or beads, as well as experimenting with different colors, this style is easily customizable to suit your unique taste and personality. Whether you're going for a casual day out or a special occasion, braids on the side will always be fashionable and chic.
31. Lemonade Braids to the Back
When it comes to braids, there are a variety of styles that people can choose from. One popular style is braids on the side. This hairstyle involves creating one or multiple braids along the hairline, sweeping them to one side, and securing them with a hair tie or pins. While many opt for long side-swept lemonade braids, trying this unique approach can add extra flair and uniqueness to the classic braid style.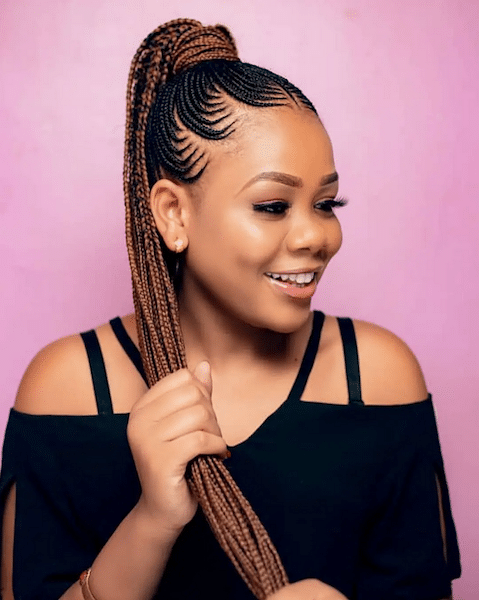 32. Lemonade Braids Ponytail
Braids are a classic hairstyle that never go out of style, and side braids have the added bonus of being versatile and edgy. Lemonade braids in particular have gained popularity lately due to their intricate design and unique look. One way to switch up the style of lemonade braids is by styling them in a chic side braid or ponytail. This style is both practical for keeping hair out of your face, and stylish with its trendy off-center vibe.
33. Bohemian Lemonade Braids
Braids on the side can provide a subtle and stylish twist to traditional braided looks. One popular style is the lemonade braid, which features long, side-swept cornrows that can be adorned with beads or other accessories. Another trendy look is the bohemian braid, which features box braids with unraveled ends for a more textured finish. By combining elements from both styles, you can create a unique and personalized look that showcases your own individuality. Don't be afraid to experiment and try new things!
34. Lemonade Braids with Curls
Braids on the side can add an edgy and stylish look to your curly hair. Lemonade braids, in particular, have gained popularity in recent years as they are typically braided down to the ends and left untextured. However, if you want to show off your gorgeous curls, you can choose to unravel the braids halfway down for a fun and unique twist on this classic hairstyle. Curly hair is a great way to add volume and dimension to your look, while also highlighting your natural beauty.
35. Lemonade Tribal Braids
Braids on the side are a classic and versatile hairstyle that can be adapted to fit any occasion. One popular style is tribal braids, which have roots in African culture and significance to different tribes. The intricate patterns used in tribal braiding carry cultural meaning and can be customized to reflect one's own heritage. By embracing this style, one can honor their ancestry and celebrate their cultural identity through hair.
36. French Braid Lemonade Braids
If you're looking for a stylish and simple way to wear your lemonade braids, consider adding French braids on the side. This popular braiding technique involves weaving three strands of hair together in an overhand motion, creating a sleek and sophisticated look. While these braids are not necessarily meant to last for days or weeks, they can be a lovely and feminine addition to your overall hairstyle.
37. Heart Lemonade Braids
Braids on the side can add a touch of flair to any hairdo, and heart-shaped lemonade braids take it to another level. This fun style creatively weaves the hair into adorable heart shapes that are sure to make a statement. Not only is it a playful way to express yourself, but it also serves as a reminder of what really matters in your life.
38. Lemonade Feed In Braids
If you're looking for a chic hairstyle that won't take up too much time, side braids might be the perfect solution. One popular variation is lemonade braids, which can take several hours to install. However, feed-in braids are an excellent alternative for those who want the same look without spending too much time in the stylist's chair. These braided hair extensions can seamlessly blend in with your natural hair and work with various lengths and textures. Best of all, they are perfect for anyone who's always on-the-go but still wants to make a style statement!
39. Red Lemonade Braids
If you want to add a bold twist to your Lemonade braids, consider dyeing them red! Red is a color that exudes confidence and grabs attention. It can also convey passion and excitement. With red braids on the side, you're making a statement that says you're confident, daring and not afraid to express yourself in unique and creative ways. So go ahead, take that risk and make heads turn with your fabulous Lemonade braids!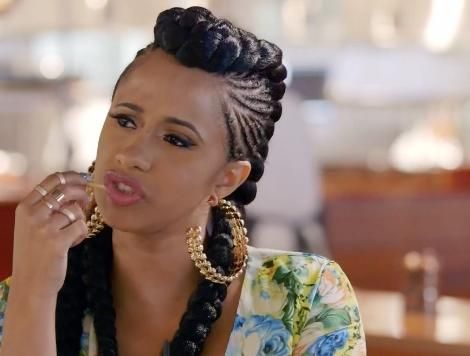 40. Cardi B Lemonade Braids
Braided hairstyles have been popular among celebrities for years, with Lemonade braids and box braids being two of the most iconic styles. While Beyonce is often credited with popularizing Lemonade braids, other celebrities such as Cardi B have also rocked various types of braided hairstyles. Cardi B has experimented with different colors, accessories like beads, and styling her hair straight back in a more traditional box braid style. For those looking to mix it up, you can always combine elements of both Lemonade and box braids to create a unique look.
41. Blue Lemonade Braids
Styling your hair in braids on the side is a trendy and stylish way to show off your personality. If you're looking to add a pop of color, blue hair can be a fun choice. With various shades available, from bright and electric to pastel or light blue, you can easily find a hue that complements your skin tone and suits your preference. Not to mention, Lemonade braids look amazing with bold, dyed locks!
42. Lemonade Braids with No Edges
If you're looking for a chic and versatile hairstyle, consider trying side braids! Lemonade braids, in particular, can be modified to fit your desired length and thickness. Additionally, creative styling of your edges, which refers to the short baby hair along your hairline, can add flair to this already cool and expressive look.
43. Purple Lemonade Braids
Adding braids on the side of your hair is a great way to switch up your look and add some fun to your style. One trendy braid hairstyle is called "lemonade braids," which is a type of protective style that goes well with highly pigmented colors. Purple hair in particular is often chosen for its symbolism, representing power, creativity, and royalty. Whether you choose a bold or soft shade of purple, this color complements the texture of lemonade braids beautifully and can be worn on any length or thickness of hair.
44. Jumbo Triangle Part
If you're looking for a bold and unconventional hairstyle, consider trying out side braids. These lemonade braids create a distinctive look that sets them apart from more traditional braid styles. Taking the form of jumbo-sized triangles with daring part lines, it's no surprise that this edgy style is a popular choice for those wanting to stand out!
45. Nicki Minaj Lemonade Braids
For those interested in a bold and trendy hairstyle, consider trying out the side braids popularized by Nicki Minaj. These lemonade braids gained mainstream attention after the rapper sported them in her 2018 music video for "MotorSport." Achieving this look may require hair extensions to achieve the long, flowing locks seen on Minaj.
46. Lemonade Braids with Twists
Twists are an increasingly popular hair styling technique that adds dimension and texture to your locks. When combined with lemonade braids, this creates an eye-catching style. Lemonade braids with twists can be styled in various sizes and worn in various ways – up in a bun or left down for more casual looks. This style is versatile enough for any special occasion from days at the beach to formal events.
47. Half Cornrow Half Lemonade Braids
Looking for an original take on lemonade braids? Try half cornrow half lemonade braids! This style combines two distinct braiding techniques in a half-moon shape around the perimeter of the head, then lemonade braids are added to any remaining hair. It works great on any hair texture and can be customized with different parting designs or colors.
48. Lemonade Braids with Rings
Adding rings to your lemonade braids is an elegant way to dress them up and give it some pizzazz. Rings come in all shapes and sizes, from simple gold or silver rings to more elaborate designs that can be placed at different intervals throughout the braids for a unique and eye-catching aesthetic. This style is ideal for those who want to bling up their locks.
49. Lemonade Braids with Accessories
Accessories are an ideal way to personalize your lemonade braids and give them some flair. From hair cuffs and beads, to headbands and scarves, the possibilities are endless. Accessories can be added throughout the length of the braid or just at its ends – this style is ideal for those who want to express their individual style and personality.
50. Lemonade Braids with Curly Ends
Looking to add some volume and texture to your lemonade braids? Why not try adding curly ends? This style is achieved by attaching extensions to the ends of the braids and curling them using a curling iron. The outcome is an elegant, bouncy style suitable for any special occasion; works well on all hair textures as you can customize it with different curl sizes and lengths.
Conclusion
Lemonade braids have become a popular protective hairstyle that offers versatility and style. Whether you prefer classic or trendy variations of the braids, there is a lemonade braid style that can suit your preferences. With so many variations to choose from, you can always switch up your look and find a style that you love.